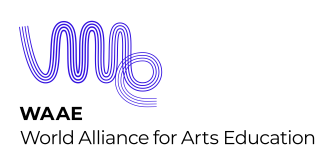 Arts Impact 2021: Context Matters
OCTOBER 25-28, 2021
10th World Summit
University of Florida, Reitz Union and Hotel, Gainesville, Florida, USA
New Submission deadline: Coming Soon!
The Submission Portal will open again soon
Questions: Email to WAAE2021@aa.ufl.edu
About the Summit
The impact of the arts and arts education is wide and significant. As a global arts education community, we seek to know the impact of our work in the many contexts in which it manifests. Assessment and evaluation of the impact of arts learning and arts programming involves complex and valuable processes that are shaped by the contexts in which arts education takes place. From design to implementation to analysis, unveiling the impact of our work is achieved in multiple ways – through various designs, models, and practices.
This Summit brings together artist-educators and advocates from across the world to network, share research, and examine quality structures, processes, and practices. Artist-educators and arts program directors strive to ensure that arts assessment and program evaluation is intentional, well designed, and yields quality information that is analyzed and translated effectively into practices that improve arts learning and impact on students, audiences, and communities. This summit will bring together a host of international experts to share and discuss evidence-based practices aimed at measuring impact of arts learning and arts programming.
Philosophical Foundations
This Summit is grounded in the following shared beliefs:
All students are inherently artistic. Every person has the capability to experience, learn, and engage with the arts meaningfully.
Assessment and evaluation of arts learning is best when it is ongoing and not episodic. Arts learning progresses over time, and the assessment and evaluation of that learning is a continuous process.
The multidimensional nature of the arts creates opportunities and challenges for designing evidence-based measures. The arts are a complex, multidimensional human experience. The design of assessment and evaluation models must reflect those characteristics.
Outcomes
At this Summit, we seek to:
Further the WAAE objectives of advocacy, research, and collaboration.
Develop a set of international principles for arts assessment.
Develop an online, open access publication of selected summit papers through the University of Florida libraries. This will be a one-time publication to serve as an historical record of the event.
Participants will:
Discuss and develop a set of international principles for arts assessment.
Engage with the international arts education community to identify arts assessment and evaluation practice that are shared across disciplines.
Deliberate with presenters and attendees about values and beliefs on evidence-based arts assessment and evaluation.
Dialogue with WAAE leaders about the organization's objectives of advocacy, research, and collaboration, and connect this summit to the support of the broad goals Seoul Agenda and the UNESCO sustainability goals.